Several Irving Oil contractors are being treated for non-life threatening injuries following an explosion and fire at the refinery in Saint John on Monday morning, officials said.
"We now understand that all employees and contractors working on site have been safely accounted for," the company posted on Twitter around 2 p.m. AT, about four hours after residents reported a "bed-shaking" blast that sent flames shooting an estimated 30 metres high and saw a plume of black smoke covering most of the city's east side.
"As this is an active situation, we will be sharing more information as it becomes available," the tweet said.
The fire is now under control, according to the Saint John Emergency Measures Organization (EMO).
It reports that four people are being treated in hospital for non-life threatening injuries.
Emergency crews remain at the scene and EMO continues to monitor the situation.
Some streets remain closed, but no evacuations have been ordered.
The Irving Oil facility is the largest refinery in Canada. It employs about 1,400 and is capable of producing more than 320,000 barrels per day.
Saint John police responded to the scene around 10 a.m., and were asking residents to avoid the area altogether.
After the explosion was reported, the Saint John Regional Hospital went into "code orange," meaning it was prepared for a possible influx of patients. 
"We're currently treating two patients with non-life-threatening injuries from the refinery explosion," New Brunswick's Horizon Health Network said on Twitter shortly before 2 p.m., and added that the hospital was "running as usual today."
After the blast at the Saint John oil refinery Monday morning, police were warning residents to stay clear of the area. (Photo: Submitted)
In a Twitter post, Irving Oil would only say: "We can confirm that a major incident has occurred at our Saint John refinery this morning. We are actively assessing the situation at this time and will share more information when available."
The following streets are closed: Loch Lomond at Commerce, Grandview at Champlain, Grandview at Bayside, and Loch Lomond at Macdonald.

—@saintjohnpolice
The blaze has since died down, but people have been lining the streets all morning to catch a glimpse of the fiery building. 
Residents react to explosion
Officials have said they still don't know what caused the loud explosion. (Photo: CBC)
Saint John Mayor Don Darling said on Twitter early after reports of the explosion emerged: "This is obviously a live event … when we know more, you'll know more. Praying for the safety of all involved."
Premier Brian Gallant tweeted he has reached out to Darling.
Gallant said the New Brunswick Emergency Measures Organization was engaging with the city and Irving Oil officials to assess the situation.
"On behalf of all New Brunswickers, our thoughts are with the workers affected and with the community of Saint John," Gallant said.
Bob McVicar, who lives in the area of the explosion, posted on Facebook that it felt like a "bed-shaking explosion."
Residents across the city also reported on social media that they felt the effects. 
Not the first explosion
Mark Melanson and Jocelyn Legassie were sitting at the Tim Hortons on Hickey Road, about three kilometres away from the refinery, when they heard a popping sound.
They looked outside the window and saw black smoke and flames exceeding the height of the stacks at the refinery.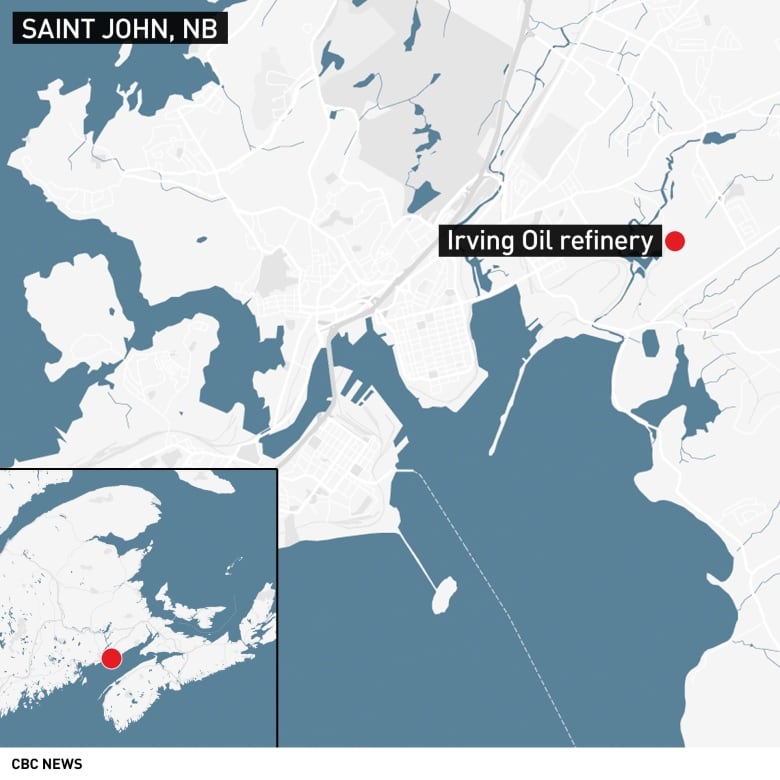 The oil refinery in Saint John. (CBC)
Melanson said he has seen explosions like this on YouTube at oil refineries around the world, but never seen anything like this in Saint John.
Legassie agreed.
Very serious fire currently underway at the Irving Oil Refinery. <a href="https://t.co/te8X4Xl6Tw">pic.twitter.com/te8X4Xl6Tw</a>

&mdash;@thewrightpage
"I've lived in Saint John for 30 years and this is the first time I've seen something like this happen here."
There was another explosion at the oil refinery in the fall of 1998, when flames and a huge cloud of black smoke hung over the facility.
Rob Beebe felt Monday's explosion from his apartment on Martha Avenue, a few streets over from the refinery.
"We felt the entire building move as if it wobbled."
When he walked outside, he noticed black smoke coming from the refinery, so he hopped into the car, drove down the corner and saw fire about 30 metres high.
"We're sitting here and watching it burn right now," he said. "It's getting larger."